KOOLFEVER COOLING GEL SHEET FOR ADULT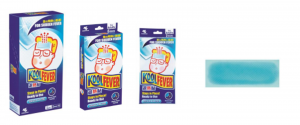 Powerful cooling effect suitable for adults.
KOOLFEVER is ready to use as it is when your child or any of your family member becomes feverish.
Because it tightly fits to the forehead, it will not displaced even if the wearer turns in bed.
Crisp and cool effects persist for night time (about 8 hours) per sheet.
KOOLFEVER has the size perfectly fitted to adult's foreheads.
To reduce the heat when you have:
Fever- Headache
Toothache
Hot Day
Sultry Nights
Flushed Skin After Sports
The moisture contained in the gel absorbs and releases heat so that specified cooling effects are obtained (gel is water-soluble polymer based).
Application:
Remove transparent film and tightly affix the gel-cooling surface to desired body parts.
Cut KOOLFEVER to a suitable size with scissors if necessary.
Use KOOLFEVER once, for efficacy and hygiene.
Content / Size:
8 sheets / box ( 2 sheet x 4 packs )
12 sheets / box ( 2 sheet x 6 packs)
50 mm x 130 mm per sheet
Do not use KOOLFEVER on irritated or injured skin (cut, eczema , rash ,burns, thermal injury, etc ).
Take extra care when using KOOLFEVER on babies and infants or persons with sensitive skin. If any irritation such as swelling, rashes , etc., occurs during or after application, discontinue use and see a dermatologist.
When KOOLFEVER is used on those who cannot apply the product themselves ; babies, infants or the physically disabled, use under supervision of parents or other reponsible adults and pay special attention to keep them from eating or placing the product over their mouths or nostrils to prevent suffocation.
KOOLFEVER does not stick if the skin is perspiring or it comes in contact with hair or eyebrows.
After unpacking, KOOLFEVER gradually decreases cooling effects.
After unpacking, tightly fold the notch of the aluminium bag twice along the dotted line and store in a box.
Avoid storing in places of high temperature. Store in a cool place preferably.(Do not store in a freezer)
KOOLFEVER is not a drug. If fever persists , see a doctor.
Contact Us
50-02-2A, Level 2, Wisma UOA Damansara, 50, Jalan Dungun, Damansara Heights, 50490 Kuala Lumpur
Malaysia
+603 2011 7702