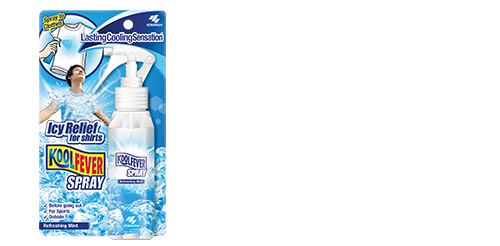 Hot, Sweaty & Uncomfortable spray for Icy Relief Long lasting cooling sensation with comfortable refreshing mint to beat the heat with Koolfever Spray
Turn the blue stopper in the middle to [OPEN]
Spray the product to the entire clothes from a distance of at least 10cm (3-5 sprays to one part). It is effective to spray the product to the clothes corresponding to the sweaty body parts such as armpits, back, or neck.
After use, turn the blue stopper in the middle from OPEN to the original position.
Avoid using the product if you are allergic to alcohol or have sensitive skin. Do NOT use the product for the clothes of infants.
This product can ONLY APPLY ON CLOTHES. DO NOT use it directly to the skin. When spraying with your clothes on, avoid direct contact with skin.
This product is not used to treat fever.
If the strength or persistence of cooling sensation is not enough, please spray the product again.
Do NOT spray a large amount of the product to the same part.
In case of any skin discomfort after use, please stop using immediately.
When using the product for the first time, try with a small amount first to make sure no irritation occurs on the skin.
Mist may not be formed if the product is slowly sprayed.
Contact Us
50-02-2A, Level 2, Wisma UOA Damansara, 50, Jalan Dungun, Damansara Heights, 50490 Kuala Lumpur
Malaysia
+603 2011 7702