NEW AMMELTZ YOKO YOKO GOLD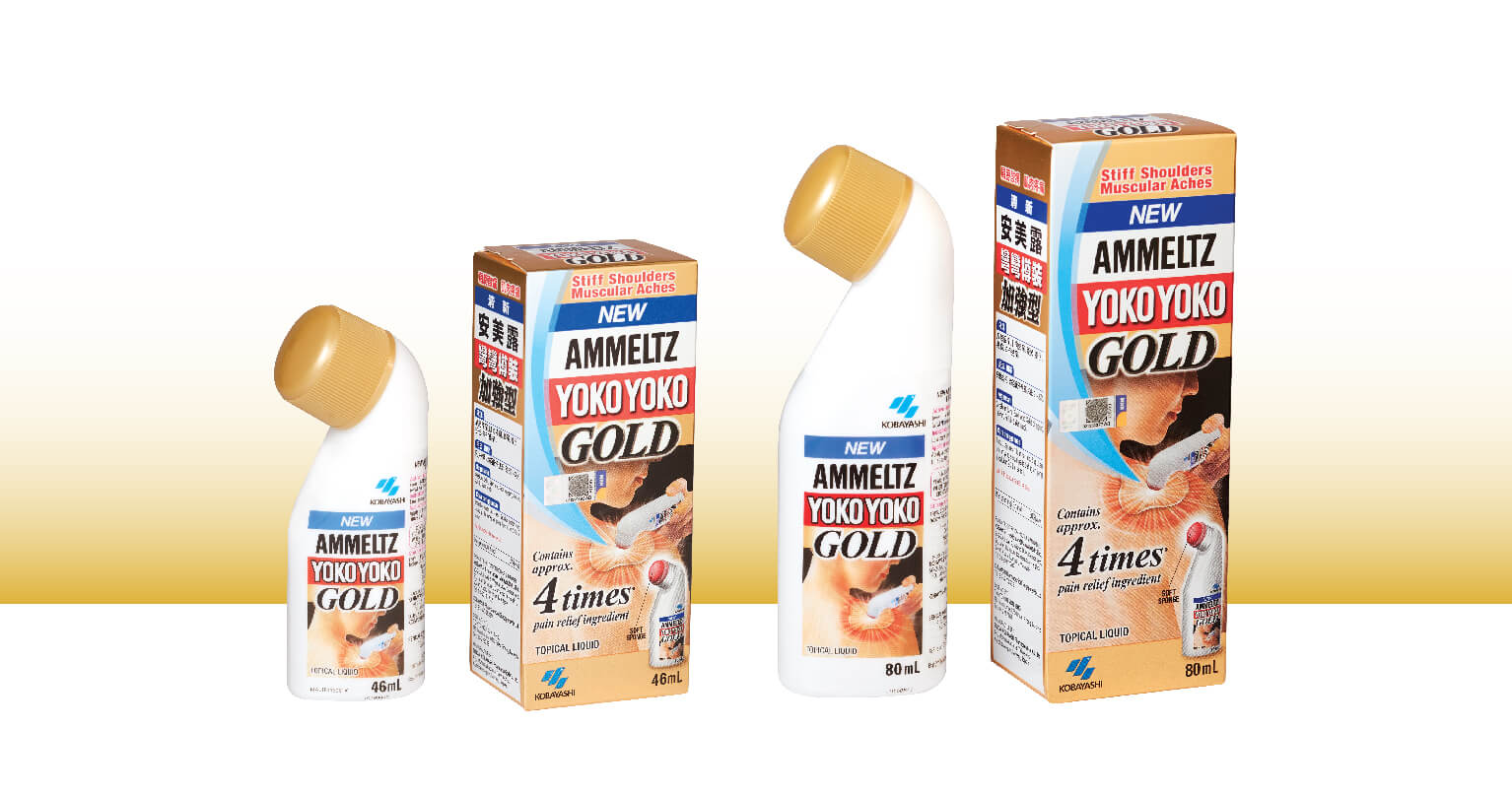 Contains analgesic ingredient (Glycol Salicylate) approx. 4 times more* and relieves shoulder stiffness and muscular pain. *Compared to KOBAYASHI Pharmaceutical's product NEW AMMELTZ YOKO YOKO.
Liquid medication dries quickly,warming the stiff,arching area and taking effect with a pleasant tingle.
The distinctive curved-neck bottle makes it easy to apply even to hard-to-reach areas like the back and lower back.
For Stiffness of shoulder, Muscular Pain, Low Back Pain, Bruises, Sprains, Joint Pain.
Application Direction:
For external use only. Apply a proper amount to affected parts 2 or 3 times a days.
Storage condition:
Keep away from direct rays, tightly stopper and at temperature below 30°C.
Keep away from fire.
Product Size Available: 46ml & 80ml
This product contains glycol salicylate and when applied or rub on the skin, can be absorbed through the skin into the blood. For patients taking warfarin, excessive application on to the skin for muscle or joint pains may increase the chances of bleeding.
Keep out of reach of children.
Do not use around eyes or on wounds,muccous membrane an skin affected with eczema or rash.
People who have developed any allergic symptom (eg. rash, reddening,itch, sore) due to drugs or comestics, should consult a doctor or pharmacist before use.
The person with sensitive skin should avoid applying on the same part repeatedly.
Avoid contact with eyes.Should it get into eyes, rinse immediately with water. For serious cases, see an ophthalmologist.
It is dangerous to place any camphor-containing product into the nostril of children. A small amount applied this way may cause immediate collapse.
Do not use with bandage or heat ( heating pad, hot water bottle or lamp)
Do not apply this product and other external remedies together on a same part.
If you should have a rash, reddening, swell,itch,etc.due to use of this product,stop using and consult a doctor or a pharmacist.
Use of this product immediately before or after a shower/sweating may result increased heat sensation at the area applied.
If you feel excessive tingling, wash it off with soap.
Contact Us
50-02-2A, Level 2, Wisma UOA Damansara, 50, Jalan Dungun, Damansara Heights, 50490 Kuala Lumpur
Malaysia
+603 2011 7702