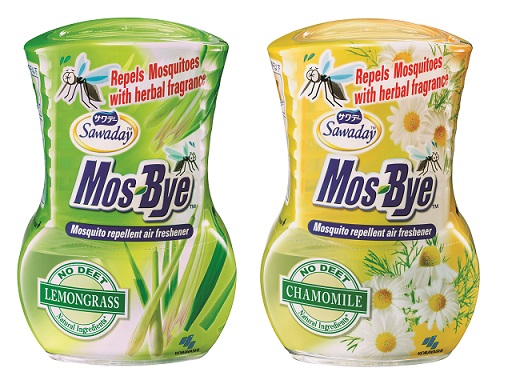 Mosquito repellent air freshener with Pleasant Herbal Fragrance!
Formulated with herbal fragrance to repel mosquitoes.
Does not contain DEETS. It is safe to be used even for children.
Works as a deodorizing air freshener with a pleasant herbal fragrance.
Easy to use. Just place Sawaday Mosbye at anywhere in your home.
Sawaday Mosbye is now available in Lemomgrass and Chamomile fragrance!
Product Pack Size and Fragrance
SAWADAY Mosbye Lemongrass 275ml
SAWADAY Mosbye Chamomile 275ml
Indication:
Repels mosquitoes with natural ingredients and provides long lasting aromatic scent & freshen the air for Living Room, Entrance and Bedroom.
Direction of Application
Tear off the upper part of wrapping film along the strip.
Open the top cover.
Turn to open the inner cap along the arrow direction. Discard the inner cap.
Insert the filter paper into the liquid and push down the filter paper cap firmly.
Return the outer cover firmly.
Cautions
Avoid contact with eyes or skin. In case of plenty contact, rinse well with plenty water.
Keep out of children
Keep the product upright.
Do not hold the lid only while or stain on certain materials. If spilled, wipe off immediately.
Avoid direct under sunlight and high temperature.
Use only directed.
Contact Us
50-02-2A, Level 2, Wisma UOA Damansara, 50, Jalan Dungun, Damansara Heights, 50490 Kuala Lumpur
Malaysia
+603 2011 7702