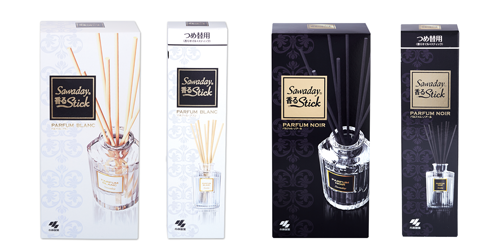 Parfum Blanc with chic and quality of White Chypre Fragrance.Fresh citrus green, and floras such as opulents rose and violet , blended with a warm woody note for a white Chypre fragrance that has a luxurious feel.
Parfum Noir of light oriental fragrance with a luxurious feel. Rich, sweet base notes such as warrm vanilla & sandalwood, combined with floral notes such as quality rose and jasmine, for an elegant, light oriental fragrance.
Use about 1 month (with 8 sticks), if the product is left in a draft, the room temperature is high, or depending on the season, the fragrance may be lost very quickly.
How to Use:
Put the glass bottle securely on a flat surface, insert the tip of the fragrance oil bottle into the glass bottle, and pour in all the contents.
Insert the sticks and spread them out.It takes about 3 hours for the sticks to absorb the oil.
*Adjusting the fragrance intensity*
If the fragrance is too strong, reduce the number of sticks. Do not directly touch the sticks that have absorbed the oil.Use tisuue paper to touch them.
**Once use up, please refill with the same type of "Sawaday Stick Refill"**
Do not touch the fragrance oil directly.
Keep the product out of reach of children or persons with dementia as well as pets.
Place the product slightly away from the wall,furniture, or plastics products, as it may cause stains,discoloration, or deformation when the oil adheres to them. If the oil accidentally touches these.
Do not place the product on an unstable surface or near curtains to avoid spills.
Do not store or use the product near fire ( a heater or cooking stove ) or in a place with direct sunlight, at high temperature.
Use only when the sticks included.
Use only as directed.
Contact Us
50-02-2A, Level 2, Wisma UOA Damansara, 50, Jalan Dungun, Damansara Heights, 50490 Kuala Lumpur
Malaysia
+603 2011 7702