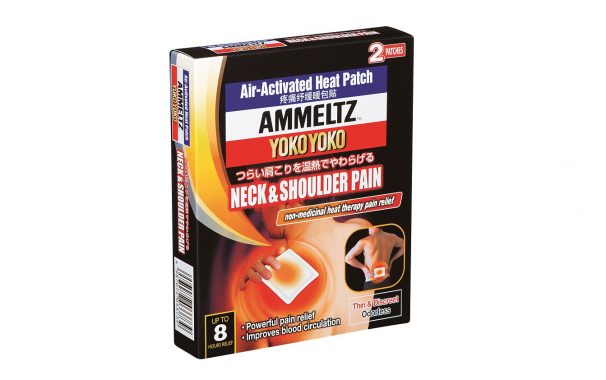 Product Features
Air-activated heat patch generates heats up to 40°C. The natural therapeutic heat will last for 8 hours& helps relieve neck pain and shoulder stiffness.
Large size heat patch of length and width 13cm x 9.5cm can stick fitly and firmly around applied part such as neck, shoulder or back.
Effectively improve blood circulation, reduce symptoms of muscle fatigue, stiffness, neuralgia and muscular pain.
Helps in recover from tiredness.
No fragrance or medicinal ingredient is formulated. Thin, odorless and simple design is convenient to put into pocket and bag, as well as enable user to use at anywhere and anytime.
Product Details
Product Pack Size
Direction of application:

Please be ensure skin is dry and clean over the place of application to avoid easily peel-off
Only tear the sachet when you are ready to use. Tear to open the sachet by hand (do not cut) and take out the heat patch.
Gently peel away the protective film on the back of the heat patch and apply adhesive side of the heat patch to the skin over the painful area. Slowly peel-off the heat patch after used.
Other Information
Warning:
Be especially careful with low-temperature burns.
Do not use while in bed.
Do not apply with strong pressure on the heat patch when wearing belt, lying down or sitting.
Stop use immediately if it feels too hot.
Remove products slowly to avoid skin exfoliation caused by low-temperature burns.
Be especially careful concerning low-temperature burns when using on sensitive part of the body such as the buttocks.
Do not apply on face, eye area or any other area that has been applied with other external remedies.
Do not apply on kids below 12 years old.
Do not knead the product, it is air-activated.
Do not used the products more than 8 hours in a day.
Do not reused for the hygiene purpose.
Do not apply the heat patch while sleep.
Do not use if you:

Have the feverish inflammation in areas of discomfort such as bruises or sprains.
Have impaired blood circulation in the hands of feet
Experience with diabetes. Low temperature burns might occurs for those who are sensitive to heat.
Have wounds, mucous membranes, rashes and damage skin.
Contact Us
50-02-2A, Level 2, Wisma UOA Damansara, 50, Jalan Dungun, Damansara Heights, 50490 Kuala Lumpur
Malaysia
+603 2011 7702